Enable order callout numbers
The print of callout numbers is great in cases where you operate a small takeaway business where the customer orders and pays something but your kitchen still has to prepare the dish on demand.
In those cases, the Point of Sale (POS) has to print a callout number on the customers invoice that is then used to callout the customer when the takeaway food is finally ready.
You find those callout numbers all over within the takeaway business. Some solved with high-end radio controlled beepers, or the much simpler assignment of callout numbers during the invoice print.
TabShop supports customer callout numbers on the invoice print.
To enable the automatic assignment and print of callout numbers within TabShop, you enter the Settings and Print options view and you enable the print of callout numbers as shown below.
During the checkout process TabShop automatically assigns callout numbers between 1 and 99 to the invoice. The callout numbers automatically increase with each invoice and repeat after 100 invoices are printed. So you never run out of callout numbers and the numbers are kept below 3 digits to simplify the recognition of the number to call for.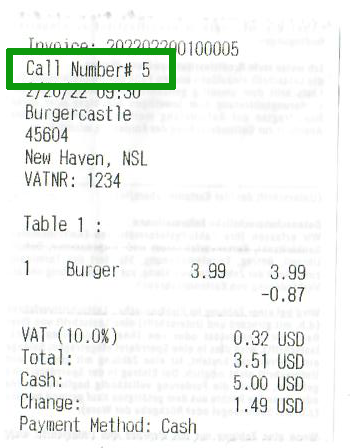 ---