The Android Point of Sale (POS) App That You'll Love ❤️
Your own personal cashier and Point of Sale Android app that helps to keep track of printed invoices, available stock and the revenue you created.
Invoice Print
Checkout and print your customer invoices right from your phone or tablet cashier and Point of Sale (POS).
Regular Updates
TabShop is actively developed and updated with the latest features.
Stock Management
Keep track of available stock and get notification when you are running low on stock.
Sales Analytics
Keep track of your daily and monthly revenue and product sells. Convenient charts and reports for optimizing your business and profit numbers.
Restaurant and Bar Features
Manage order lists for multiple tables. Use call numbers to organize takeaway orders and attach a kitchen printer for directly printing kitchen orders.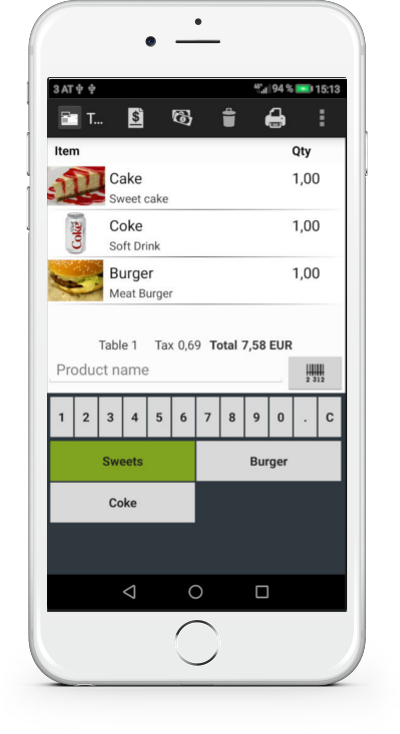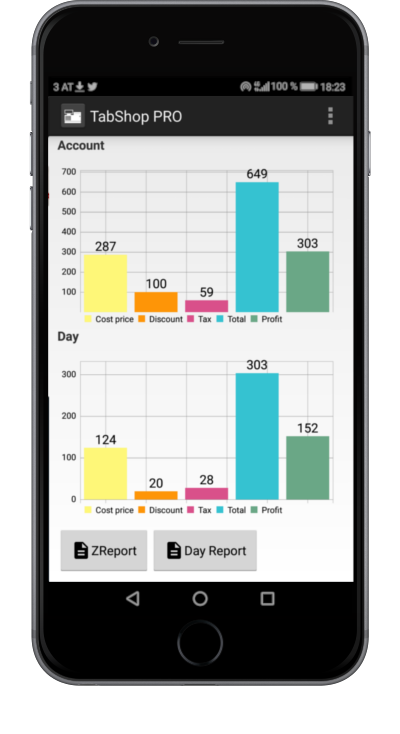 Your Data independent from the cloud!
A clean and powerful Point of Sale (POS) app, without any annoying ads! You are in control of your business data, your data does not leave your local device. No cloud account is necessary. Choose your own preferred Android phone or tablet to run the TabShop restaurant management app.
TabShop offers a direct integration with WooCommerce to directly connect with your own WooCommerce ecommerce backend. Synchronize stock and product inventory through your own WooCommerce WordPress instance and create orders directly with TabShop POS devices. With more than 4 Millions of ecommerce shops worldwide, the WordPress based WooCommerce system is the perfect back office companion for your TabShop POS.
Print and Scan
TabShop Point of Sale app works perfectly with Bluetooth thermal printers and handheld Bluetooth EAN product code scanners. See TabShop compatible vendors of thermal printers and Bluetooth product barcode and QR code scanners below:
Rongta thermal printers MUNBYN thermal printers and product barcode scanners ScanAvenger Bluetooth product barcode and QR code scanners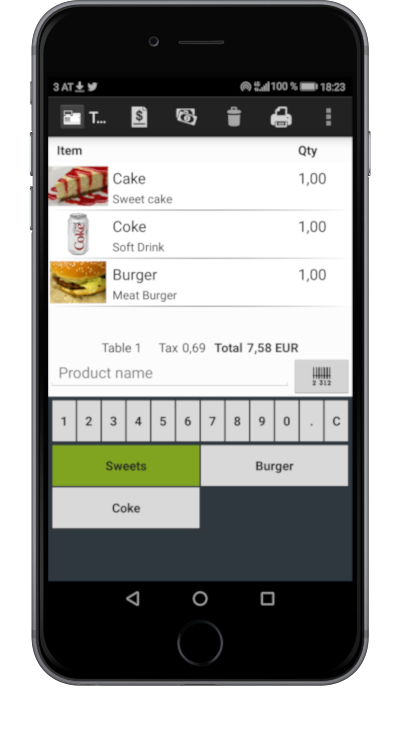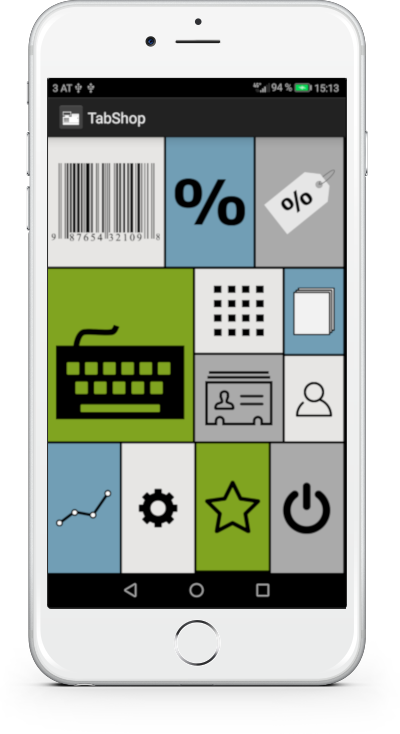 Run your own TabShop Server
TabShop runs without cloud, even without internet access. Perfect for your rough outdoor shop.
In case you need to sync between multiple POS devices, you can run your own TabShop server, either on your own Windows, Linux machine or even as a Docker container on your Synology NAS.
Pull server from
Download server for
Download server for
Screenshots
Take a look at some screenshots of TabShop cashier, invoice print, shop management in action.
Simple Design
Simple and reduced workflows for efficient shop management.
Regular Updates
TabShop receives regular updates to add your feedback and requirements.
Organize Tables
Organize orders along multiple tables.
Magical App
Manage your shop, restaurant or food truck with with ease.
Watch TabShop
Watch the video to see how TabShop is used in shops, bars, bakeries and restaurants all around the world.
Free forever without ads
TabShop is free forever without annoying ads. Through in-app purchase you can unlock additional features and therefore support the development.
Print invoices
Manage Stock
Manage Invoices
Multiple Taxes
...
Download
Our Clients
Take a look at our clients and see what they say about us
For a small business like The Cake Alchemist, TabShop provides all three in the holy triumvirate of quick, easy and convenient POS Solutions. It's interface is easy to use by non-technical staff and the customer service is excellent. We highly recommend it!
TabShop, a great App and a great Developer! We have been using TabShop for a few weeks now in our Kitesurfing-School and it has been a great help in our daily administration. Using TabShop it became very easy for us to handle our cash business for all lessons, sales, accomodation and Bistro items. Keep up the good work!
Brewcomer Draft Beer uses TabShop.
After 7 years of breakdowns and horrible tech support we've redesigned entire pos to be android run with label printer and receipt printer and picked your pos software because seemed easiest for staff!
The app is great. Caroline Pomerleau
Thank you for this useful piece of software you made!
FAQ
Most common questions, answered here
Is it really free without annoying ads?
Yes, free means free, without advertisements. TabShop free comes with 90% of the feature set of the Pro version!
Why Choose Tabshop?
I dedicated many years shaping TabShop Android Point of Sale app in my spare free time. It offers a huge set of features at a tiny price for the Pro version.
What will you get?
You get a full functional Android shop keeping and invoice management Android app that stores all the info locally at your tablet or smartphone.
Is my data transfered into a cloud?
No, all your invoices and stock info is stored on your local device.
What can I do with this app?
Take customer orders, print invoices, manage stock and invoice history and show reports on revenue.
Can TabShop be used in my bar, kiosk, TukTuk, restaurant or food truck?
TabShop users are located all around the world in more than 100 countries across many different businesses. There is even a voodoo shop using TabShop :)